Jane Palmer: exhibitions
Now showing:
Jane's work is on show (with other Brighton artists from the Fiveways group) at St Augustine's Arts & Events Centre, Stanford Ave, Brighton BN1 6EA. From 13th July to mid November 2020.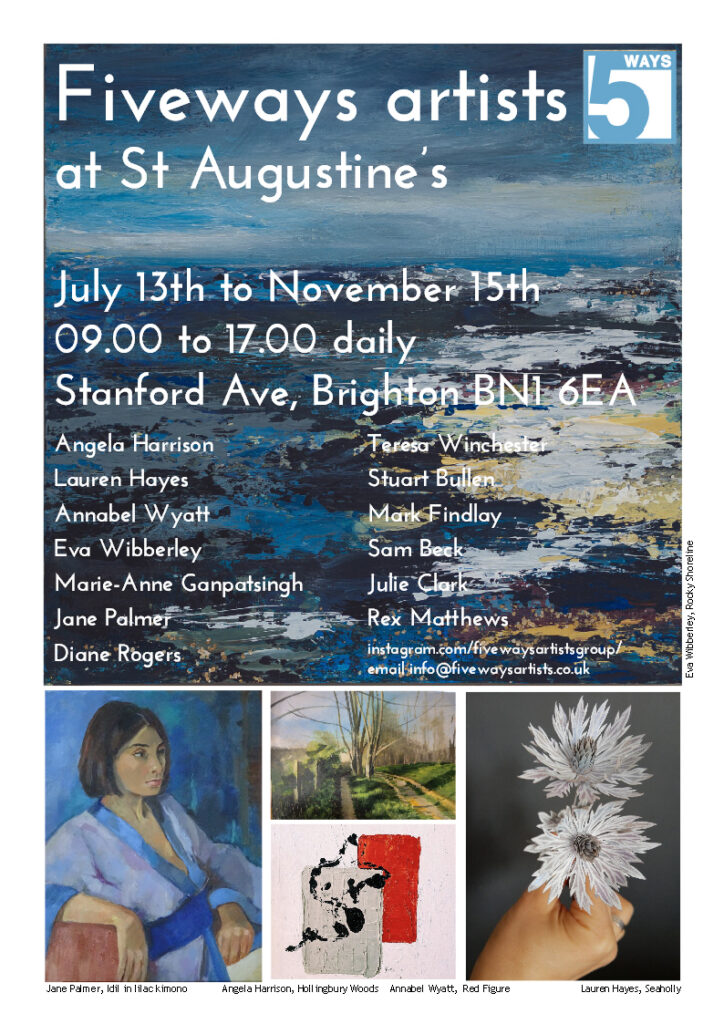 Coming up …
From August to October, a selection of Jane's portraits will be on show at The Villa Studio in Kemptown, Brighton, curated by Diana Garnier.
Also: Jane's work will be on display at The University of Kent in Autumn 2020 if the public health situation allows. Come back to this page soon for details.
May 2020: Jane Palmer & Friends
Following our successful Open House last May (see below) we were very sad that the public health emergency stopped our plan to open again in May 2020. On the videos page, Jane shows some of the work that would have been on show, and some that she's created during the lockdown instead.
Here's a small selection of the work Jane and a group of friends were planning to show.
Works here are by Jane Palmer if the caption does not name the artist. Our guest artists are Elissa Jane Diver, Pam Glew, Stef Hunter, Nigel Hunter and Tan Kingston, and their details are beneath the picture gallery.
The guest artists who were due to exhibit with us in May 2020 are:
Elissa Jane Diver, web: https://www.elissajanediver.com/
Elissa is a photographic artist working with traditional film and paper processes. Operculum is a series of black and white still life images. These explore ideas concerning visual and verbal language and ask the viewer to examine the compulsion to name what they see.
Pam Glew, Instagram: @pamglew, web: http://www.pamglew.co.uk/
Pam uses dye, paint and stitch to paint, deconstruct and distress vintage materials, making artwork on flags and textiles in response to war, notably 'Afghan Girl', used on the front cover of Le Monde. She incorporates mixed media; bleach, paint, inks and pigment onto found fabric including Japanese prints, vintage denim and heirloom quilts. Pam has shown internationally in galleries, art fairs and museums, and has produced commissions for Armani, Ralph Lauren, MTV and Microsoft.
Nigel Hunter, Instagram: @nigelhunterart
Nigel sculpts in stone and clay.  He says, "Studying and documenting aspects of nature and how these might transition through clay or stone into new physical and abstract forms fascinates me. To engage with sculpture and its manifest materialism it's good to be able to touch it – I hope this sculpture will encourage that haptic engagement."
Stef Hunter, Instagram: @sewhunter
Stef is a ceramicist. She produces thrown and handbuilt ceramics with a focus on colour and surface, influenced by the seasons and places on the South coast. Stef graduated in 3d design from Bristol and completed an MA in Ceramics at UCA Farnham.
Tan Kingston, Instagram: @tankingstonart
Tan's works are a painterly abstract description of everyday life. She says, "As a colourist my paintings are a constant exploration and interrogation of colour relations."  Tan graduated in Book Art & Design from UAL and completed an MA in History & Philosophy of Art at University of Kent.
---
Past shows:
Six artists at the Regency Town House
In November / December 2019, Jane took part in a beautiful show in the magnificent drawing room of the Regency Town House in Hove. Visit the videos page to see what was on show, and click here to see how it was reported in The Argus.
Jane Palmer and Friends: Open House May 2019
For the first time, Jane and a selected group of artist friends held an Open House in May 2019, and Jane was delighted to win the Artist of the Year award for the Brighton Artists Open Houses festival.  Jane's studio is at the heart of Brighton's Fiveways neighbourhood, where the Open House movement was founded in 1981, and we are proud to be members of the Fiveways Trail.
Visit the videos page to meet the artists preparing for the show, and for a souvenir video to see what was on show.
Several visitors enquired about portrait commissions. Here you can read a fascinating account of how one of these turned out…
---